Asphaltchick.com


Consultation Services
Hello and welcome to Asphaltchick.com
The "Asphaltchick" is Connie Lorenz

Who is Connie?

In 1999, Ms. Lorenz was hired as the Office Manager for Asphalt Restoration Technology of Florida.
Her duties entailed overseeing all accounts payable, accounts receivable, collections, purchasing, payroll, banking, customer service and general office duties. After a short time in this position, Ms. Lorenz noticed a lack of leadership and direction in the company and began a marketing campaign geared towards the hospitality market in order to increase revenues.

In 2000, Ms. Lorenz was promoted to Supervisor of Operations and at this time began a total transformation of the company. She utilized her quality control skills to identify and correct weaknesses in the operating procedures in the field as well as the administration office. She was instrumental in generating increased revenues while establishing her as a leader in the asphalt maintenance industry among vendors and competitors.

Her attention to detail as well as customer satisfaction took the company above and beyond the previous standards of other asphalt maintenance organizations in the market. It was during this time that she began to address the specific needs of a customer's property instead of providing a generic solution, as provided by asphalt maintenance companies in her industry. One of her strategies was to educate the consumer in regards to proper asphalt maintenance. She did this through education by teaching classes as well as authoring a number of magazines articles. Initially offering one class, she now teaches statewide and has previously taught a class at the National Pavement Expo in Nashville. Ms. Lorenz also began by submitting articles to some local trade magazines which generated an interest in an area that little information was available.
Now a regular contributor to both local and national publications, Connie is considered one of the foremost experts in her field.

In 2004, Connie was asked to step up to the role of President of the company.
She also captured the attention of the Manufacturer of the number one pavement rejuvenation products,
PDC - Pavement Dressing Conditioner Asphalt Rejuvenator
and was invited to sit on the Board of Directors of the PDC Group of Distributors. Through field studies, experience, courses and seminars available through some of the best educators, Connie has become one of the most sought out asphalt maintenance professionals in the industry and is known for raising the bar on the competition through offering specifically detailed and informational evaluations.

In 2007, Ms. Lorenz purchased Asphalt Restoration Technology of Florida, making it known henceforth as Asphalt Restoration Technology Systems, Inc. She continues to see the growth and higher standards of performance for her company and sets her goals to hold the reputation as the best maintenance company around from customers across the state of Florida.

During the this journey, Connie has gained the respect and trust of many Facility Managers, Property Managers, Business Owners as well as Board Members and community residents.
In doing so, many have asked her opinion about their specific course of action or process when their specific property required a service that was beyond the scope of services that AR Tech typically provided.

So in 2015 Connie decided it was time to spread the knowledge with Asphaltchick.com Consultation Services.

Be it a detailed property evaluation, production of specification standards for bid documents, procurement of proposal, proposal comparison and "apples to apples" comparison all the way to full onsite Project Management Services with progress posting websites, the Asphaltchick has got your Asphalt covered.

Connie Lorenz
Asphaltologist and Asphalt Consultant
The softer side of pavement
www.asphaltchick.com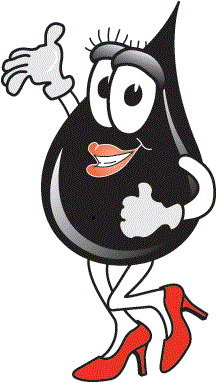 This website is sponsored by Asphalt Restoration Technology Systems, Inc. located in Orlando, Florida. AR Tech has been servicing Florida since 1993 and are the true leaders in asphalt maintenance and rejuvenation

Connie Lorenz, President of AR Tech, has been educating consumers through magazines and classes about proper asphalt maintenance since 1999.
Her C.E.U. class, ABC's of Road Resurfacing, is a recognized course available through most certified organizations and offers 2 C.E.U. credits upon completion. Contact us for additional courses available. Please contact our office for dates and times..